Noah's Ark (Singapore Day Eight)
We're supposed to be prepared around 8 but I woke up around 10 already. Some of us haven't even taken our baths yet. Teehee... We left La's apartment around noon already.

We visited the Singapore Zoo today. First thing we did, we had our lunch at KFC.



The first batch of animals we saw were these birds. I joked that they all looked like stuffed. A guy was standing nearby and holding this yellow snake. It looks harmless so I mustered up enough courage to touch it. Am not fond of snakes. I gave myself props just by caressing this beautiful creature.



We started walking around and saw some monkeys who were playin' with some oranges. Unfortunately they couldn't open it so they just dribble it. One even looked like Patrick Ewing!


Some animals I saw were hippopotamuses, rhinos, the white tigers (just lying around), the black & white tapiers, a warthog (I sang Pumbaa's song in "The Lion King"), and some raccoons.


I had so much fun taking pictures of the penguins. I just love these birds!!!

The polar bears (Shawee called them Panda bears) were a disappointment. It would've been better if they swim and play to the crowd's content.



We went inside this eco house containing assorted animals like butterflies (they both landed on Arlyn and me), lemurs (one almost jumped on Shawee), and mouse deers.



There were some big cats too. I found out that you can tell the difference between jaguars and leopards by the former's inner spots on its coat. The male lion (with mane around his face, take note Shawee) sprayed some piss while the female lion was making some sensual gestures. Unfortunately, the king of the beasts wasn't in perfect form. The cheetah was a sight to behold though ;oP

While taking our break, an elephant walked by. It reminded me of our Thailand trip.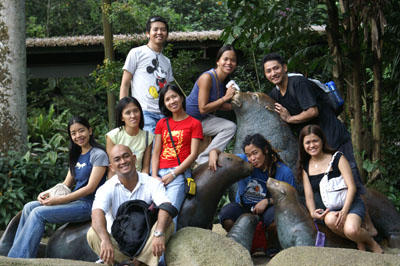 Around 7:30, we checked out the Night Safari. We boarded a tram where a lady speaker in a sing-song tune explained what we're supposed to see on our left and right. Sometimes it's too dark to see the animals though. There was a portion in this trip where we could investigate the nocturnal animals further on foot.

We saw bats and some night creatures. Most animals we've already seen in daytime. I don't recommend this at all.



Close to midnight, we headed back home. We planned to celebrate my birthday there. La & Kneel met with Jowee & family and got some food. I was checking my watch every now and then. Midnight came while we're at Tana Merah station. I got the best gift ;oP
Back in the apartment, my friends brought some spaghetti (super thanks to Bess!), fried chicken, fries, and cake!!! The best! I love having cakes on my birthday, although there's a portion in my cake that didn't look too appetizing. The best thing is I celebrated it with Arlyn and my barkada.

Bess brought also their MagicSing. After dropping off Arlyn at her friend's house, I started singing with Dennis and Ogz. For the first time, I sang "Love Hurts". Dennis sang "Beautiful in My Eyes" twice. And Ogz had "Kahit Kailan" as his last song. We finished around 4 am.

Thank you, Lord, for this wonderful birthday party in Singapore!