Slimmer's World Goldmembah & Back Injury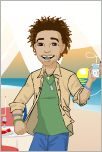 Lunchtime was memorable because we're all present. La (has finished her night shift), Ogz, Raz, Jowee, Beng, and our friend who came back from her US assignment, Chel. It was really nice to see their faces again.
I withdrew money again 'cause this long weekend had me shopping for clothes and books. I've also exercised my BPI express debit card. It's fun to be shopping cashless again.
Had my "Pet Adoption" painting framed. Will get it on Monday. Asked for discount and the lady there gave me 20%. Not bad, eh?
When I got back, I got a call from Mona. She advised me to take a lifetime Slimmer's World membership. With Ogz's help, I got one. Sweet!!!

We played Ultimate Frisbee during a break. I got tired easily. Bummer!
After the barkada's break at Starbucks, I went home with Beng to change.

We reached San Lorenzo Village around 8:30. Jowee and La attended the free lesson with Towie while we joined other group to practice on our throw and catch.

Bok, from a long distance away, threw a frisbee at me. I didn't catch it the first time. Neither on the second. On the third, I got prepared. I even shouted, "Bring it on! Bring it on!". He threw it at me and I caught it finally. Only this time, when I bent down to catch it, I sensed my back muscles tearing once more. I acted as if it didn't hurt. Tried to stretch a bit. After a few minutes, I couldn't play anymore so I sat down and rest. A few more minutes, I layed down. A very bad move!

Around 10 pm when it was already time to leave, I couldn't move. It freakin hurt! My friends tried to help me but movement was very limited. After some gruesome minoots, I was able to stand. It didn't hurt when I was standing.

I decided to be brought to Makati Med (thanks to Jowee). Cathy and Shawie accompanied me too. It was already around 11 and I haven't had any dinner yet. Good thing, Cathy had an apple so I had a few bites.

Dr. Lim, my doctor who checked on my vertigo last month, saw me and he immediately worked on my case. I was injected with some pain killer. Was x-rayed to check for any bad signs. The x-ray machine was neat. I stepped on this vertical table and little by little it reclined. After my checkup, it helped me to standing position again. For a minoot, I thought I would tumble.


Back in the ER, I was given some medicines to buy. Cathy paid for my bill--2,419.30. Hay caramba! We bought medicines (468.90) before finally leaving the hospital.

I had to eat sumpthin so we went first to Tropical Hut for my super late dinner. Afterwards, we went home.